Winter is indeed upon us!
As record-breaking low temps linger over the East Coast and our own state of Virginia, I am struck by how dramatically the snow and ice crystals impact the soil.
Have you ever noticed how something magical happens beneath our feet when it snows or frosts, and when the moonlight hits the soil more – as many of the plant leaves are gone or bowing to the Earth?
There is something special about water in its crystalline form that stimulates the soil microbes to feed and build soil like crazy!  It's like they know they need to prepare for the spring – way before we see any green on the plants, the biological activity starts drastically increasing.
Can you FEEL it?
If your soil is bare or overgrazed or without enough litter from dead or dormant plants…you may not have ever felt this sensation …or witnessed how the microbes eat up the soil cover like crazy to grow their communities and prepare for Spring's flush of growth.
The same growth happens inside of me each winter – whether I am going deep within having a quiet night on the farm (rooting), or whether I am branching out by going to conferences to learn and strengthen my human relationships.
CLICK HERE to learn more about my insights with soil and cuddle up with the recordings of my presentations from the 2017 ACRES & BFA Conferences.  The first is about Using Nature as Mentor.  The second talk goes into our principles of how we improve soil, explores common pitfalls and misunderstandings, cover crops, weeds, and MORE!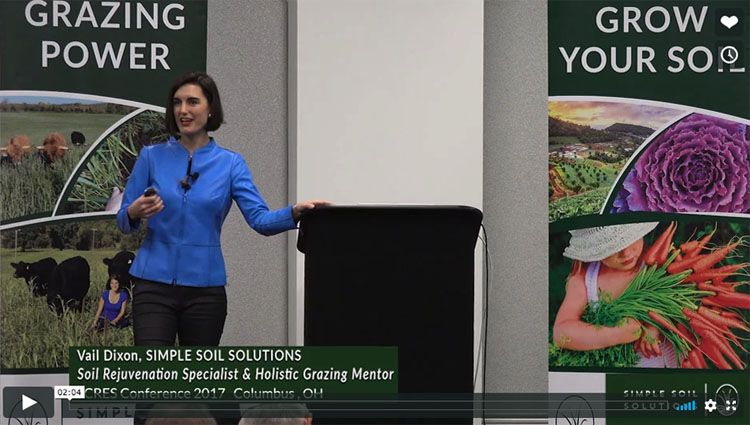 I had a BLAST and learned so much from mentors like Dr. Christine Jones and Dr. Don Huber.  It was great to connect with so many passionate people from all walks of life, as well as learn from other amazing farmers!
I will be sharing more specifics of what I learned, as well as more tips to help your winter soil, in the weeks to come.  For now, let winter heal you and soak up some learning.  Be sure to share your insights with us and share with those you know who might like to watch.
P.S. – If after watching the video replays and powerpoint presentations on the Conferences Replay link above, you are ready to learn more and go deeper:
Send us your questions and challenges by email to vail@simplesoilsolutions.com, and/or by commenting on this blog post.

Join us by phone or computer for our next live GOT WEEDS? LIVE Discussion and Q&A Call on Tuesday, February 13, 2018 from 6:00 – 8:00 PM (EST).

 CLICK HERE

to register and get the details on how to join me on the call.

Join us live on the farm for our next Pasture Walk on Saturday, February 24, 2018  from 1:00 – 4:00 pm (EST).
Share On