Cost-Effective Tools to Create Lush Plants
Compost Tea, Biological, Bio-Enhancing Amendments & Microscopy Training

Hands-On, Intensive Workshop
April 28-30, 2017
2370 Buffalo Station Drive, Gladstone, VA 24553 – CLICK HERE for directions
Instructor: Vail Dixon
$497.00
One-time payment of $497.00
Two monthly payments of $260.00
Learn how to grow plants that are so healthy they'll be disease and pest resistant. You'll also learn how to transition worn out, beat up dirt into productive soil – quickly and without breaking the bank!
This is a hands-on, transformational workshop you don't want to miss! Space is limited to 30 people.
Price includes organic or all natural lunches & snacks for all three days including free potluck dinner on Saturday. Please let us know if you have any allergies or dietary preferences.
CLICK HERE for information about onsite camping and local accommodations.
---
Are you ready to unlock your soil's FULL productive potential?
Do you want to demystify how to grow healthy plants – and bridge the soil, plant, gut HEALTH connection?
Want to learn how you can add biology in easy and cost effective ways, that fit into YOUR growing system?
Day 1 – The Foundations & Principles of Biological Soil Building – Streamline Your System by Using Nature's Principles
Use Nature's guiding principles to maximize your results while minimizing work
Learn how to integrate important principles from the Soil Foodweb, Permaculture, and Holistic Management to UNLOCK the Secrets of your SOIL
Basics of Soil Biology, Chemistry & Physics – What you NEED to know that most resources won't tell you
Learn Nature's fertility secrets and work-saving strategies to GIVE YOUR PLANTS A BOOST!
Learn how to use COVER CROPS to feed your soil year round
---
Are you tired of your plants suffering from pests and diseases?
Do you want to reduce or eliminate reliance on fertilizers?
Do you want an experienced farmer to show you compost tea recipes and methods that really work?
Day 2 – ORGANIC BIO-Friendly Tools to Transform Your Farm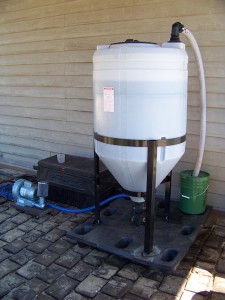 Day 2 will cover Actively Aerated Compost Tea, & Other Biological, Organic & Bio-friendly fertility techniques (mineral teas, stabilized microbial extracts, powdered seed treatments, etc.)
When to use Compost Tea – and when it is NOT needed
Other easy to use, cost effective ways to add biology
Recipes & uses for each type of fertility listed above
Brewers, design, maintenance and use (5, 100, and 1000 gallon systems)
How to brew fungal dominated tea – or customize brews for microbes you need
Spray rig and spray application equipment (various designs incl. root injection)
Techniques & timings for application
Testing – the most time & cost effective ways to monitor if you are being effective
Tips for continued success
---
Want to be able to identify your own biology?

Day 3 – Microscope Training and Building Your Farm Plan
Day 3 will cover In-House Microscopy for Compost Tea – Qualitative Analysis and we will pull together everything we've learned to help you identify your next steps this year.
How to identify beneficial and pathogenic organisms in actively aerated compost tea
You may bring your own microscope (see specs), but do not need one…as we will be projecting images as we teach
We'll go through what we've learned and help you IDENTIFY YOUR FARM's WEAKEST LINK
CHOOSE YOUR BEST ACTION PLAN and tools for 2017
Arrangements can be made to bring your own brewers, to brew on site and then analyze your own tea recipes in class on Sunday. 
Additional support in brewer and spray-rig / application design available after the workshop.
---
Hands-On, Intensive Workshop
April 28-30, 2017
2370 Buffalo Station Drive, Gladstone, VA 24553 – CLICK HERE for directions
Instructor: Vail Dixon
$497.00
One-time payment of $497.00
Two monthly payments of $260.00
This is an intensive hands-on training, so space is limited to 30 people.
Price includes organic or all natural lunches & snacks for all three days including free potluck dinner on Saturday. Please let us know if you have any allergies or dietary preferences.

---
Simple Soil Solutions supports education and building better communities. Therefore we give the following scholarships/discounts. Daily snacks are included with the price of the workshop. Meals are not included, but can be purchased separately. Please contact us for more details.
Past Participant – $99 (80% Discount)
Past workshop participants
5 discounted slots available for Past Participants
Educator Scholarship – $125 (75% Discount)
School projects, NRCS, Ag Extension, SWCD, other formal educator projects (discuss w/Vail)
Non-Profit 501(c)(3) with tax ID#
Students with valid student ID
5 discounted slots available for Educator Scholarship
Limit one per group
Shared Project – $250 (50% Discount)
Second member of a farm, family or organization
5 discounted slots available for Shared Project
Limit one per group
Please contact us for more details.
There are a limited amount of scholarship/discount spots available – first come, first served.
Special Instructions:  If you are registering with the shared project discount, you will need to register each person separately. The first person to register will need to pay in full. The second person to register can use the coupon code. Of course, please visit us on the contact us page if you have any questions. Thank you!
Each member must register separately. Again, please contact us for details.
MONEY BACK GUARANTEE: Participate fully in the program, attend all sessions and implement the techniques taught, and if you are not completely satisfied within 30 days of program completion, we will gladly refund your money – every penny! No hassles.
Share On